Jetzt präsentiert Natalie Ihre neue CD Sax Vibration - Lounge Vol. 1. Der Name spricht für sich selbst: Disco, Party, ausgelassene Stimmung, aber auch Lounge Musik zum Relaxen nach dem Tanzen!
"Ich freue mich sehr für meine Fans, nun weltweit meine neue CD zu präsentieren, mit Euch meine Musik und mein Leben teilen zu können, nicht nur live in der Disco, sondern auch bei Euch zu Hause." (Natalie Marchenko)
Verpassen Sie Natalies Auftritte nicht - jetzt können Sie die neue CD von Natalie Marchenko bei iTunes kaufen!
Now Natalie is presenting her new album Sax Vibration - Lounge Vol. 1. The title speaks for itself: disco, party, lively atmosphere but also lounge music tunes for relaxation after dancing!
"I am happy to announce to my fans that my new CD is available worldwide and so i can share my music and my life with you, and not just in a disco but also in your homes." (Natalie Marchenko)
Don't miss Natalie live gigs and don't forget to buy her new CD on iTunes!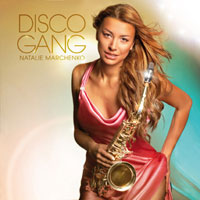 DISCO GANG bei Amazon kaufen // bei iTunes kaufen